Hi Jammers! Naffy here.
The Night of the Phantoms (Halloween) is just around the corner. Literally. It's tomorrow, people.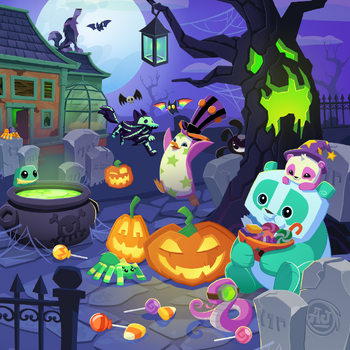 Which means the day after that is the first day of November, which means it's almost Thanksgiving, which means we're one step closer to Christmas.
My, this year has gone by so fast!
But that's not the point. Today, we're going to be discussing the holiday that is upon us at the moment, by answering a question that was recently brought up by another fellow AJ blogger named
sarahkey8.
So... why exactly DO we celebrate the Night of the Phantoms?
Well, I believe this can be better explained by first asking, why do we celebrate
Halloween?
Halloween is a combination of pagan and Christian traditions. Historically, it originated from the festival of Samhain, which celebrates the end of the harvest season. The official day for this festival was November 1st, but the pagans believed that on the night before Samhain (October 31st), spirits of the dead would return to purposefully destroy their crops and wreak havoc.
Then, in the 8th century, Christians turned the festival into All Saints Day, and named October 31st All Hallows Eve, which was later shortened to Halloween.
The pagans would dress up and wear costumes to prevent the spirits from detecting them. People would also place Jack-O-Lanterns, carved out of turnips, potatoes, or even beets, on their doorsteps to ward off the evil spirits.
Clearly, Halloween has a very religious, interesting background, and traditions have been going strong ever since it was born. However, this does not give us an exact answer as to why we celebrate the Night of the Phantoms in Animal Jam.
The Night of the Phantoms has been described as ''a night where the phantoms come out to play''. Do the phantoms actually PLAY like good little children do, or do they cause chaos throughout the land like the evil spirits?
Aren't phantoms supposed to be... y'know... our ENEMIES? Infamous for their mischievous acts that bring destruction and grief to Jamaa?
WHY ARE WE CELEBRATING THEM!?!? THEY'RE
EVIL!!!
At least the reasoning behind all of the Halloween traditions make SENSE! People in ancient times weren't celebrating the evil spirits. They were only trying to send them away!
AND WHY THE HECK DO WE KEEP PHANTOMS AS PETS!!!???!!?!?!
*sighs*
Okay. That got a little out of hand there, but do you get what I'm trying to say?
I understand that not everyone celebrates Halloween, so AJHQ did what they had to do in attempt to keep the peace between all of their players. Same goes for the Jamaalidays and Freedom Day.
There are just a few... mmm... plot holes, I suppose.
That's all for today. I hope you enjoyed this post. Let me know what you guys think in the comments about the Night of the Phantoms.
Adios!