Hey Jammers! Naffy here.
Today's topic is a rather serious one, but I suppose it depends on how you take in the information, so... it's up to you.
As you know, yesterday was an update day. I'm going to give my honest opinion here - it wasn't great. Most of it was mediocre. I guess the whole ''Adventures For Everybody'' thing is good, but who knows how long that will last.
What really makes me hate this update is the new animal; or, more specifically, the animal's dance action.
Did...
Did that horse just...
D-D-D-DAB!?
Animal Jam, you've hit a new low.
If you don't know what ''dabbing'' is, it's ''a style of hip hop dance that involves dropping one's head with one arm raised and resting the face inside the elbow of the other arm, which essentially resembles the gesture of a polite attempt at muffling a loud sneeze'', according to Know Your Meme.
It went mainstream after football players in Atlanta started doing it in the summer of 2015, and the dab has been a very popular trend since then.
Dabbing isn't necessarily a bad thing (unless you make it a bad thing... don't smoke, kids), it's just... it ticks me off. It doesn't make you cool, it makes the people around you CRINGE. It's stupid.
Now, about a year and half after the trend SHOULD have died, Animal Jam gives us a new animal that actually performs the dab.
AJHQ is trying to be ''cool'', per say - and that is the main reason why I believe this game has officially hit rock bottom.
The addition of the words ''swaggy'' and ''kawaii'' to the pool of names you can choose for your animal is one example. Another is this triple inner tube item that is clearly very similar to a fidget spinner shape-wise.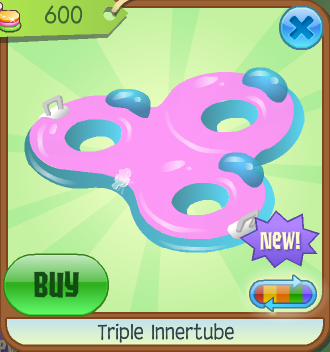 And, of course, we cannot forget the dabbing horse.
That's all for today. Let me know what your opinions are on the new animal. Yay or nay?
Bye Jammers!