Hey Jammers! Get ready for a little blast to the past.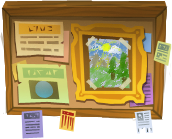 Today's post is going to be all about the Jammer Central. You know, the bulletin board in the center of Jamaa Township? That Jammer Central.
Believe it or not, the Jammer Central hasn't always been around. If you can recall the Beta Days, where the Jammer Central is now used to stand a large stone gong. There were two versions of this gong: one without a big green gem in the middle, and one with a big green gem in the middle. I like to think that green gem is an Alpha Stone and was an early version of the Adventure portals, but that's a whole different story.
Back to the Jammer Central.
In the early days of the Jammer Central, the board looked like this:
This model of the Jammer Central consisted of three main bulletins: a special calendar with events going on during the month(s) or season, a video, and a gallery of artwork submitted by Jammers (keep in mind this was way before Masterpieces existed), as well as a Submit-Your-Work button. If your art was featured in the gallery, you would receive an Artist Plaque for your den.
Oh, and of course we can't forget about HOWLS!
Howls are short messages or shout-outs written by Jammers and handpicked by AJHQ to scroll across the bottom of the Jammer Central like a news ticker. If your howl got chosen, you would receive a Howl Plaque for your den.
Currently, the Jammer Central consists of four main bulletins: the latest Play Wild update, featured Masterpieces, a video, and a Submit-Your-Work button.
Wait a minute...
WHERE DID THE HOWLS GO!?
OH DEAR...
DID HOWLS GET... DISCONTINUED!?
NNNNNOOOOOOOOOOOO!!!
Have Howls been gone for a long time? Am I late to the party?
Well... I guess since Howls have been discontinued, so has the Howl Plaque, so Howl Plaques have now increased in value ever so slightly.
I can't think of anything else to talk about. Sorry to close the post on such a sad note. You may as well pay your respects to Howls in the comment section, if you really want to.
Bye Jammers!